HC Block & Estate Management Ltd are committed to providing a professional service to all of our clients and customers. If things go wrong we need you to tell us about them so that we can investigate and deal with issues swiftly and with integrity. This will help us to improve our service to our valuable customers and resolve issues as quickly and completely as possible.
If you have a complaint, please put this in writing (letter) to us. We will then acknowledge and respond in line with the timescales and stages set out below.
Our complaints management process is based on guidance and best practice for complaints handling on the Property Ombudsman's website – www.tpos.co.uk/members/complaints-handling.
Stage 1 – Send Us Your Complaint
Please put your complaint in writing, in letter form, and send it to:
Complaints Manager
HC Block and Estate Management Ltd
386 Finchampstead Road, Finchampstead
Wokingham, Berkshire, RG40 3LA
Please include as much detail as possible, including the specific nature of your complaint, dates, names of any members of staff you dealt with and any supporting evidence. We encourage you to advise us what resolutions you require, as we find this is the best way to collaboratively resolve your complaint.
Please ensure you date your letter and send it recorded delivery (signed for) to ensure you have a record of receipt.
Stage 2 – Our Acknowledgement
Your complaint will be acknowledged in writing by recorded delivery (signed for) within 3 days of receipt of your complaint and we will then commence our in house complaints investigation process .
Stage 3 – Our Investigation
Your complaint will be investigated by a Company Director and we will provide a formal written response addressing your specific complaint and proposing resolutions where appropriate within 15 working days from the receipt of your complaint.
Stage 4 – Discussion and Further Investigation
If you are not satisfied with the outcome of our investigation and proposed resolutions, please engage with us so that we can understand the reasons behind your dissatisfaction.
Further engagement and discussion can be conducted in writing, via email, by text or through any other means of recorded/ evidenced communication, including face to face and by telephone, which will be minuted and agreed in writing via email or letter.
After this further engagement and discussion takes place, we will write to you within 15 working days to articulate our viewpoint, which will constitute a written statement clearly expressing our final view on all of the complaints raised.
Stage 5 – Ombudsman
If you remain dissatisfied with our final viewpoint, you have 12 months to refer the complaint to the Property Ombudsman from the date of our final viewpoint letter to you.
The Property Ombudsman, Milford House
43-55 Milford Street , Salisbury, SP1 2BP
01722 333306
There is guidance for you on making a complaint, on the Property Ombudsman's site – www.tpos.co.uk/consumers/how-to-make-a-complaint.
Our process aligns with The Property Ombudsman's flowchart for complaint handling best practice: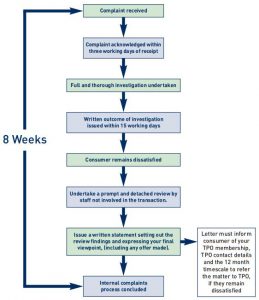 Notes on our complaints management process:
Exceptional customer service is hugely important to us, therefore we will make every effort to resolve your complaint amicably and quickly. 
A Director who is not involved with your complaint will be appointed as the complaint handler.
If all Directors are involved with your complaint, we will determine the most appropriate Director or other member of staff to handle your complaint.

If we are unable, for practical reasons, to respond within the required timescales, we will advise you, the complainant, and provide an estimate of when we expect to be able to complete our investigation.

If you do not wish to engage with us about a complaint, you must refer the matter to the Property Ombudsman, however their advice, in the first instance, will be to engage with us to resolve your complaint.
All correspondence between you and us will remain confidential at all times. We will handle and store all information you provide to us securely and in the strictest confidence.
We will inform our insurers about all complaints we receive, and we will provide them with any information requested by them in order that they can conduct a risk assessment and provide us with advice on properly handling and responding to the complaint.